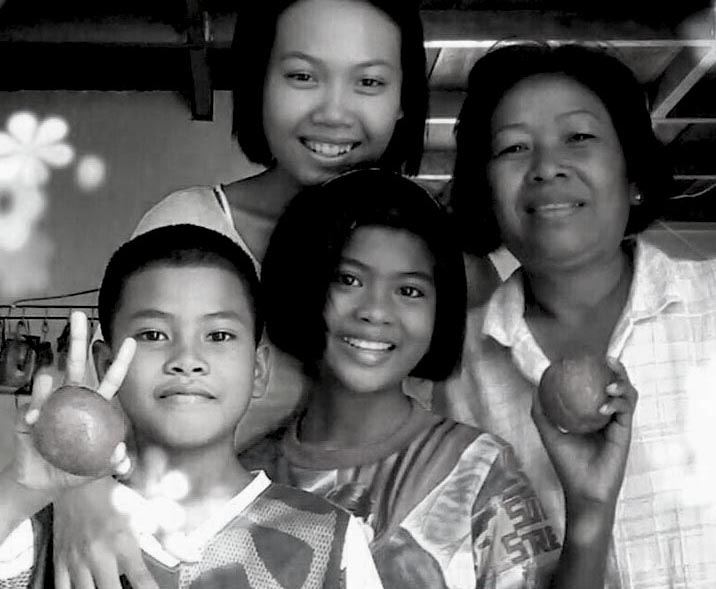 30 Aug

Domlai Mon: a business provides a home

Emi & Eve have been working with a home working seamstress, Thearith Soun, for some time. Thearith is a skilled tailor. She is also not only a war survivor but also a HIV survivor. She heads a small group of seamstresses with HIV in her community. Although given some orders from fair trade clients, they have all been struggling with a regular income, due to being ostracised at workshops and therefore having to rely on home based work.

Her daughter Meimei is healthy and very bright. Having missed out on university because she needs to be at home to care for her mum and help the business, she tends to miss out on job opportunities. At the beginning of this year, we hired her as our full time country coordinator and she has been invaluable.

Thearith is highly regarded in the community. A year ago, a dishevelled skinny street girl covered in rashes was brought to them. NichNich had lived around a dirty market off of people's kindness for 5 years, while struggling with the HIV condition that caused her aunt to reject her and usurp her parental home after her parents passed away. Her younger brother Phai was allowed to stay behind since he did not have HIV and could be useful to take care of the cows. A distant relative knew that Thearith could take care of the girl, but Thearith and Meimei were struggling to feed themselves, so after a while they sent her to a welfare centre with a heavy heart. By this time they had all grown to love each other as a family.

When I heard about this, and that they all wanted to stay together, a story unfolded that ended up somehow addressing my own personal desire for family and belonging. How can I deny a child a home when I was searching for that very thing myself? The only thing that stood in the way was a couple of dollars a day. It was a no brainer.  I strongly believe kids should grow up in families, not institutions.

We needed legal papers, so an epic journey to Nich Nich's small village followed, three hours drive north towards Siem Reap and three hours back. There we met with two distant relatives, the village chief and the community chief. The policeman who had brought her to Thearith,  showed us his humble wooden stilt home and the reason why he could not take care of Nich himself: his mentally disabled daughter. It was harrowing to see this girl sitting in the middle of the room smiling, oblivious to everything. We decided to buy the family's monthly rice from them instead.

There were no birth certificates so we started there. They asked me for birth dates. And ages. I suddenly held papers that proved the existence of two people, who otherwise would fall through the cracks of a society still recovering from war and a chasm of other injustices. It felt like holding two lives in my hands. Next the village chief sat down on the tiled floor of his house and wrote a letter under which thumb prints were placed by the distant relatives, confirming that they agreed to hand over responsibility of Nich Nich and Phai to Thearith. The same was done by the community head. And we were set.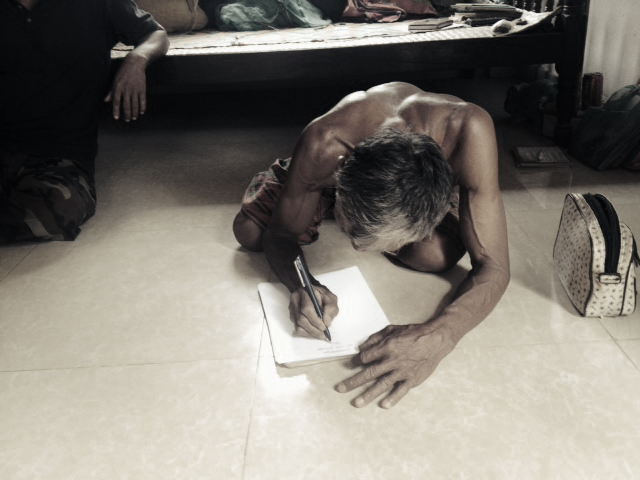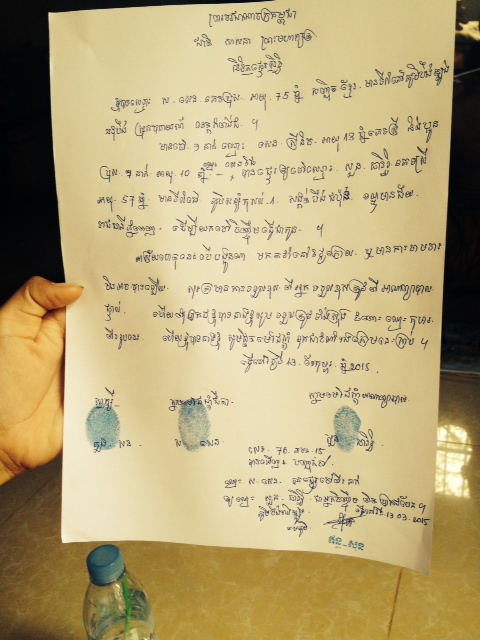 We drove back with an uncle and little brother Phai. Wide eyed, he agreed he would stay in his new home provided that his sister would be joining him. Getting Nich Nich out of the centre was a drama I had not foreseen! The centre holding her was incredibly obtuse, insisting that they owned her and that Thearith did not have the capacity to care for her. Many and long emails with various NGOs later, it seemed an impossibility that she would be allowed to leave. So……she took matters into her own hands and ran away!  Now the four of them are living together. It is a joy to come back to this humble home where so little is shared to gain so much. They are my family too.
Emi & Eve created Domlai Mon, ("precious mulberry leaf", the enduring symbol of sustenance in Cambodia), to be able to care for the family needs of our artisans. The notion of Domlai Mon is that a business can make a home.